Why is a genetic-specific counselor education important?
In genetic counseling, as well as many other counseling fields, it's not what you say, it's how you say it that can make all the difference. This is especially true if you're talking with patients about aspects of their personal genetic and genomic health.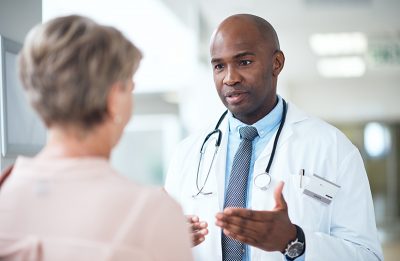 Your role in delivering important genetic-specific health information is part of the job. But it's vital that you have the skills to effectively communicate sensitive and complex clinical genetics information. How you approach your genetic conversations with patients and the public may make all the difference. 
Establishing a trusting relationship, or "therapeutic alliance," is imperative for all clinical relationships—not just between professional genetics counselors and their patients. How you deliver clinical services and the relationship you nurture between yourself and each patient may be far more significant than any specific therapeutic technique you can offer. 
Genetic-specific training enables counselors to effectively and accurately answer our patient's most difficult questions at pivotal moments.
How to become a genetic counselor.
To become a genetic counselor, students require a strong education from a college or university housing a master's degree program accredited by the Accreditation Council for Genetic Counseling (ACGC). Along this pursuit, there are a number of genetic counseling program requirements and prerequisites that are needed to enter a program. These are typically program specific and can be found on each program's website. A list of all accredited programs is located on the ACGC website.
Resource Links: 
An online program focused on genetic counseling competencies designed to drive careers.
UConn's Clinical Communication & Counseling certificate is made up of four asynchronous 100% online courses designed to give you the foundational concepts of genetic counseling and health communication theories. Concepts of genetic counseling are applied in varied formats toward creating effective provider-patient or advocate-consumer communication. Skill development focuses on supporting healthcare discussions for the benefit of the person and society in the era of individualized medicine.